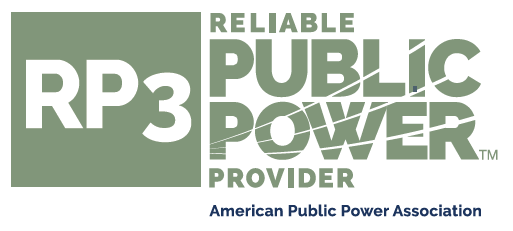 HG&E understands that electricity is vital to the way we do business and live our lives.  HG&E is therefore proud to offer its customers highly reliable electric service, ensuring that power is available to you as often as possible.  As a mark of its dedication to its innovation and its commitment to exemplary service, HG&E is a recipient of the prestigious RP3 designation from the American Public Power Association, which is held by less than 2% of the country's over 2,000 municipally owned utility companies.  Such status is awarded to municipal utility companies that provide customers with the highest degree of reliable and safe electric service. HG&E has also been awarded APPA's Excellence in Reliability Award since its inception in 2015.
In order to ensure that electric service remains reliable, HG&E continuously monitors its reliability indices, which give HG&E a sense of its performance compared to other utilities and allow HG&E to identify and target potential problem areas on its system.  This procedure allows HG&E to plan reliability-related projects on its system.  
Some of the reliability indices commonly used to define the length and frequency of interruptions to customers, system availability, and the number of customers affected by outages in the utility industry are CAIDI, SAIDI, and SAIFI.  They are defined as follows:
Customer Average Interruption Duration Index (CAIDI) – represents the average time expected to take to restore service after a sustained interruption.
System Average Interruption Duration Index (SAIDI) – defines the average interruption duration per customer served.
System Average Interruption Frequency Index (SAIFI) – defines the average number of times that a customer's service is interrupted during a given year.
The table below shows HG&E's reliability statistics for years 2020, 2019, 2018 and 2017, as well as typical municipal and private utility reliability statistics.
Reliability Statistics

| | | | | | | |
| --- | --- | --- | --- | --- | --- | --- |
| Reliability Statistic | HG&E 2022 | HG&E 2021 | HG&E 2020 | HG&E 2019 | HG&E 2018 | HG&E 2017 |
| CAIDI | 99.98 minutes | 99.98 minutes | 99.22 minutes | 38.97 minutes | 77.99 minutes | 93.47 minutes |
| SAIDI | 173.25 minutes | 116.82 minutes | 144.81 minutes | 50.86 minutes | 47.82 minutes | 53.77 minutes |
| SAIFI | 1.56 outages | 1.35 outages | 1.61 outages | 1.31 outages | 0.61 outages | 0.58 outages |
*American Public Power Association (APPA)